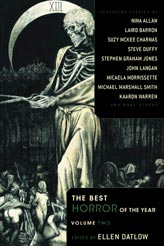 I can't believe this is only one years worth of story. Every story is amazing in it's own unique way, there is not a story here I didn't have trouble putting down. The stories run from darkly whimsical to the very disturbing. I'm so happy to be introduced to this handful of authors. I can not recommend this collection highly enough.
Some of the stories that really stood out for me are: Mrs. Midnight by Reggie Oliver, a great Jack the Ripper and ghost story. Each thing I Show You Is A Piece Of My Death Gemma Files and Stephen J Barringer is very, very creepy. Also The Nimble men by Glen Hirschberg and The Cravasse by Dale Bailey and Nathan Ballingrud.
Also, the cover was really striking and it turns out the author Santiago Caruso, has a blog right here.